Home
Welcome to our Taichi family online! Our purpose is to provide a platform to show and share learning materials for Taichi, Qigong and other martial arts, as digital and physical products.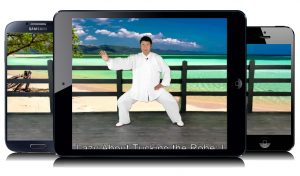 Digital videos and e-Books are available to download or stream over the internet. These are designed in various versions suitable for most portable devices including PC & Mac, iPad, Apple TV, iPhone, iPad, Android Tablet and smart Phones, smart TVs etc. You can take these materials with you to learn and exercise wherever you go. You will also find DVDs about Taichi & Qigong, one of the best ways for you to recover from health problems, keep body and mind healthy and improve your quality of life.
Payment methods are easy and safe. We accept PayPal, Visa, MasterCard, American Express & Discover.
Available products now online include Basics of Taichi, Joint Warm Ups, Spiral Rotations, a valuable package for Health and Wellness, Compact Routines which can be practiced in a small space and Essential 18 Form suitable for Beginner, Intermediate and Advanced levels. Old Form One is a traditional routine for training the internal Qi.
Upcoming Products include E-Books, DVDs, High Definition Videos for streaming, as well as equipment including swords, Uniforms and Shoes.